Overview
Daiwa Capital Markets Europe Limited is the wholly owned subsidiary of Daiwa Securities Group Inc., one of the largest brokerage and financial services groups in Japan. 
This award winning investment bank has offices throughout Europe and the Middle East, and maintains strong ties with its Asian roots, working closely with colleagues across the region. 
Company Structure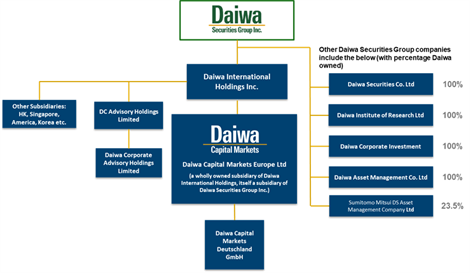 Credit Ratings
Click here for up to date information about Daiwa Securities Group's ratings.
Daiwa Europe at a glance
This award winning investment bank operates across the following main business areas in Europe from its London headquarters namely Equity, Fixed Income, Equity & Debt Capital Markets and Global Convertible Bonds.
Name
Daiwa Capital Markets Europe Limited
Head Office
5 King William Street, London, EC4N 7DA
Tel
+44 20 7597 8000

Chairman

Doug van den Aardweg

Parent Company

 Daiwa Securities Group Inc.

 Overseas Offices

 

 

 

 

 

Subsidiaries:

Daiwa Capital Markets Deutschland GmbH - Frankfurt
 www.de.daiwacm.com

  

Branch offices:

Geneva Branch

Bahrain Branch

 

Representative offices

Paris