Home /

Debt Capital Markets
Debt Capital Markets
The main products and services offered to clients are:
International bonds: both in the Global and Eurobond format. Primarily Yen USD and AUD denominated issues but also Euro and other currencies from time to time;
Domestic bonds: "Samurai" format for international borrowers issuing in Yen denominated debt securities; widely distributed to the domestic Japanese retail and institutional investor base;
"Uridashi" bonds: International bonds in Eurobond format distributed to retail Japanese investors;
Euro Medium Term Notes (EMTNs) mainly targeted at institutional investors inside and outside Japan;
Deal specific and general debt investor relations roadshows in Japan;
and documentation preparation and advice.
Daiwa Capital Markets works closely with clients to provide advice on interest rate, currency, equity and credit risk management issues in order to identify solutions that precisely match their requirements.
Recent deal tombstones are available here.
Awards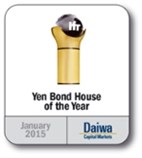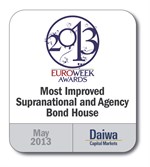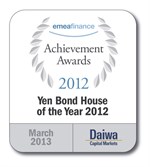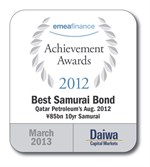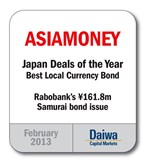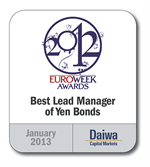 For more awards go to our Awards & Recognition page.